Here's Why We Love Our Kit Kats So Much
If you're one of those people who is selective about which bandwagons you board, we wholeheartedly respect you. But we do want you to know that the Japanese Kit Kat craze is one of the bandwagons you don't want to let roll by without checking out. With hundreds of flavors and an entire new gastronomic and cultural world to explore, Kit Kats bring endless joy and deliciousness to millions of people around the world, and we love them for so many reasons. Here are a few:
There Are 350-Plus Flavors to Try
In the United States, we're pretty conservative when it comes to variety. In the typical American grocery store, it's basically milk chocolate, white chocolate, and dark chocolate. But Nestlé Japan has released over 350 varieties since the candy debuted on the archipelago in 1973, so even the most diehard chocolate-lovers and Japanophiles never get bored. The sheer volume of options to try—from classic to fruity to savory to totally unconventional—would entice any bold, adventurous eater!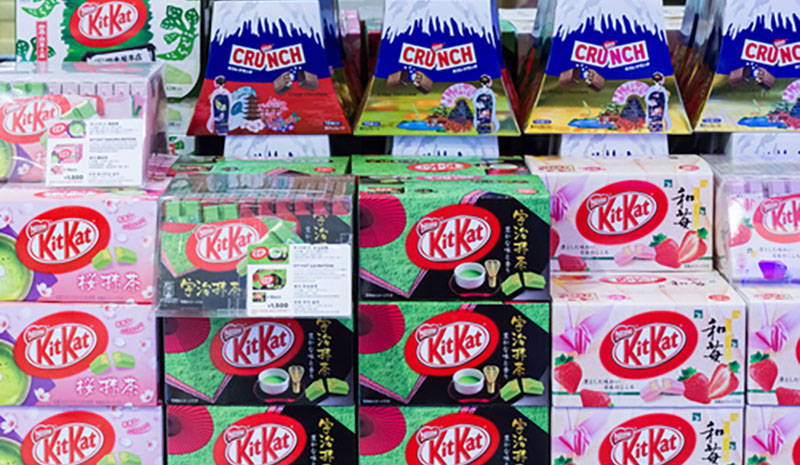 We Never Get Bored with Flavors
Can we just drone on for a moment about variety? Let's just let some of the more noteworthy flavors speak for themselves: Cheese, Cough Drop (it's very real, but good luck finding the limited-release candies, which were only available for a short period of time during the 2017 FIFA World Cup), Easter Pancake, Glazed Sweet Potatoes, Gold, Honeycomb, Hot Japanese Chili, Lemon Vinegar, Maple Syrup, Matcha Tiramisu, Miso, Plum Soda, Potato, Sake, Sakura, Sports Drink, Strawberry Cheesecake, Strawberry Fromage, and Wine. All the Japanese Kit Kat flavors in our store are worth trying!
They Can Be a Little Fancy
If you like your candy on the gourmet end, don't discount Nestlé's darling wafer. There are a few specialty Kit Kat collections that rank high among epicureans. The Kit Kat Luxury Every Day line (mainichi no zeitaku), released in September 2016, features varieties from the limited edition Chocolatory Moleson collection. These are the first and only Kit Kats with toppings, including fruits, nuts, and even rose petals. There's also the Kit Kat Sweetness for Adults line (otona no amasa), which features a rich flavor and less sweetness just for grown-ups. Basically, if you think of Kit Kat as a low-grade trick-or-treat candy, your mind will be blown when you see how well the Japanese dress up these mainstays.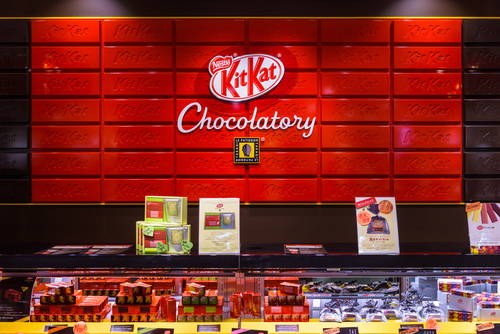 They Make Awesome Souvenirs
In Japan, there's a concept known as omiyage, which relates to giving a gift, usually a nice gift box of food or tea, to friends and family after returning home from a trip. With many gift-worthy Kit Kats out there, this is one of the more popular omiyages for both natives of Japan and travelers from around the world. The Kit Kat Chocolatory stores are among the best places to find gorgeous creations that you'll find quite gift-worthy. Hand them out as souvenirs after a trip or as gifts for fellow Japanophiles throughout the year.
The Packaging Is 😍
We all know that Asian packaging design blows American packaging design way out of the water in terms of color, innovation, and novelty, so it shouldn't surprise you to find that Japanese Kit Kats are as nice to look at as they are to eat, making them especially popular among collectors and connoisseurs. It's not just the fun imagery and graphics that make the presentations so nice, it's also the huge variety and interesting packages. From eye-catching bow-topped gift boxes to amazing assortment packs, they delight all serious Kit Kat fans and newbies, too.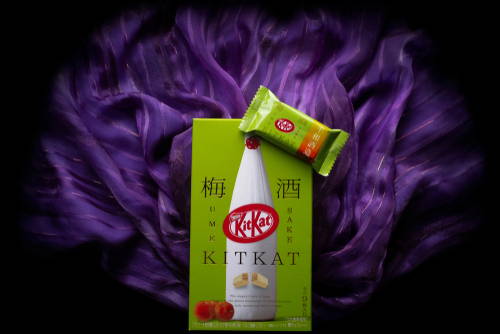 The Best Way to Try Japanese Kit Kats
Serious Kit Kat connoisseurs will want to make sure they get to enjoy as many fun Kit Kat flavors as possible as they are released, but accessing them can be a challenge in the U.S. Sign up for a Bokksu Japanese Snack Box to discover more unique Japanese snacks every month! We painstakingly test all products—tough job, we know—to ensure that every box is filled with pure joy (yorokobi).
---