9 Best Places for Hanami in Japan
Spring is on its way! That wonderful time of year when everything seems to suddenly come alive again and blossoms into flower. One flower that's perfect for spring-time viewing is the Japanese cherry blossom or "sakura."
A celebration of sakura known as Hanami in Japan is a tradition where people gather for food and drinks under these beautiful trees and simply enjoy the sight. This centuries-old tradition was once more of an elite activity of the Heian court and featured musical and dramatic performances, but the practice eventually spread throughout society and became a beloved seasonal event.
Cherry blossoms are plentiful in Japan and bloom from late March throughout April. For some of the best cherry blossom viewing spots in Japan, check out this list of places perfect for celebrating sakura.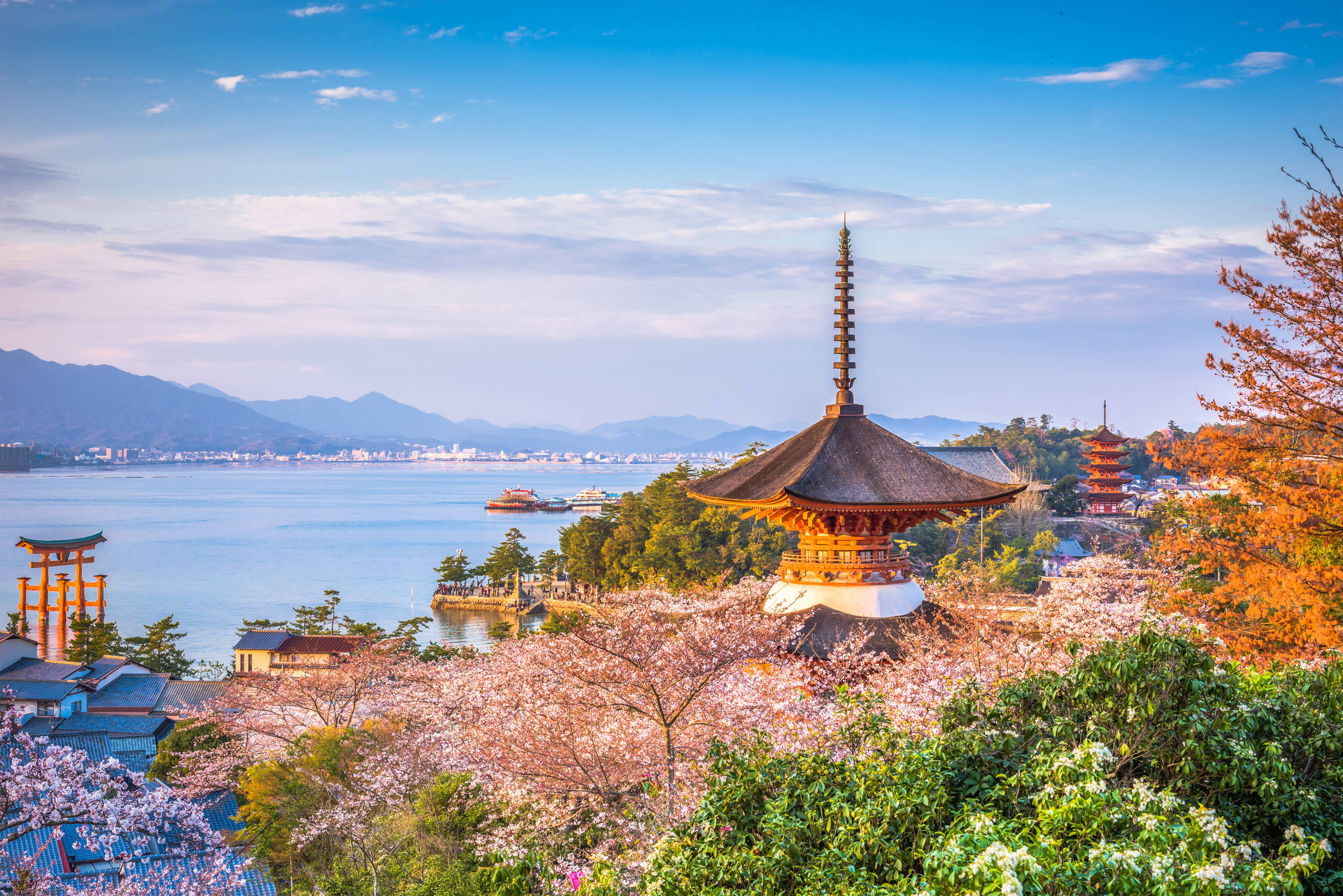 1. Miyajima, Hiroshima Prefecture
Known for its famous "floating" torii gate, Miyajima or "shrine island" is one of the most scenic spots in all of Japan and an amazing spot for viewing cherry blossoms.
This small island, located less 30 minutes off the coast of the city of Hiroshima, is home to Itsukushima Shrine and plenty of cherry trees. There's a five-story pagoda for great overhead views, and the shrine's park features plenty of walking paths for flower viewing—and a chance to see wild deer!
2. Uminonakamichi Seaside Park, Fukuoka Prefecture
Uminonakamichi Seaside Park or "Uminonakamichi Kaihin Kōen" is a public park located in the Fukuoka Prefecture. Great for all kinds of flower viewing throughout the year, the park's roughly 2,000 cherry trees make it perfect for sakura viewing in the spring.
About four kilometers (almost two and a half miles) in length, this large, family-friendly park is packed with flower gardens, lawns for picnicking and playgrounds. Cherry trees line the cycling paths, and since the park is so long, biking is recommended over walking.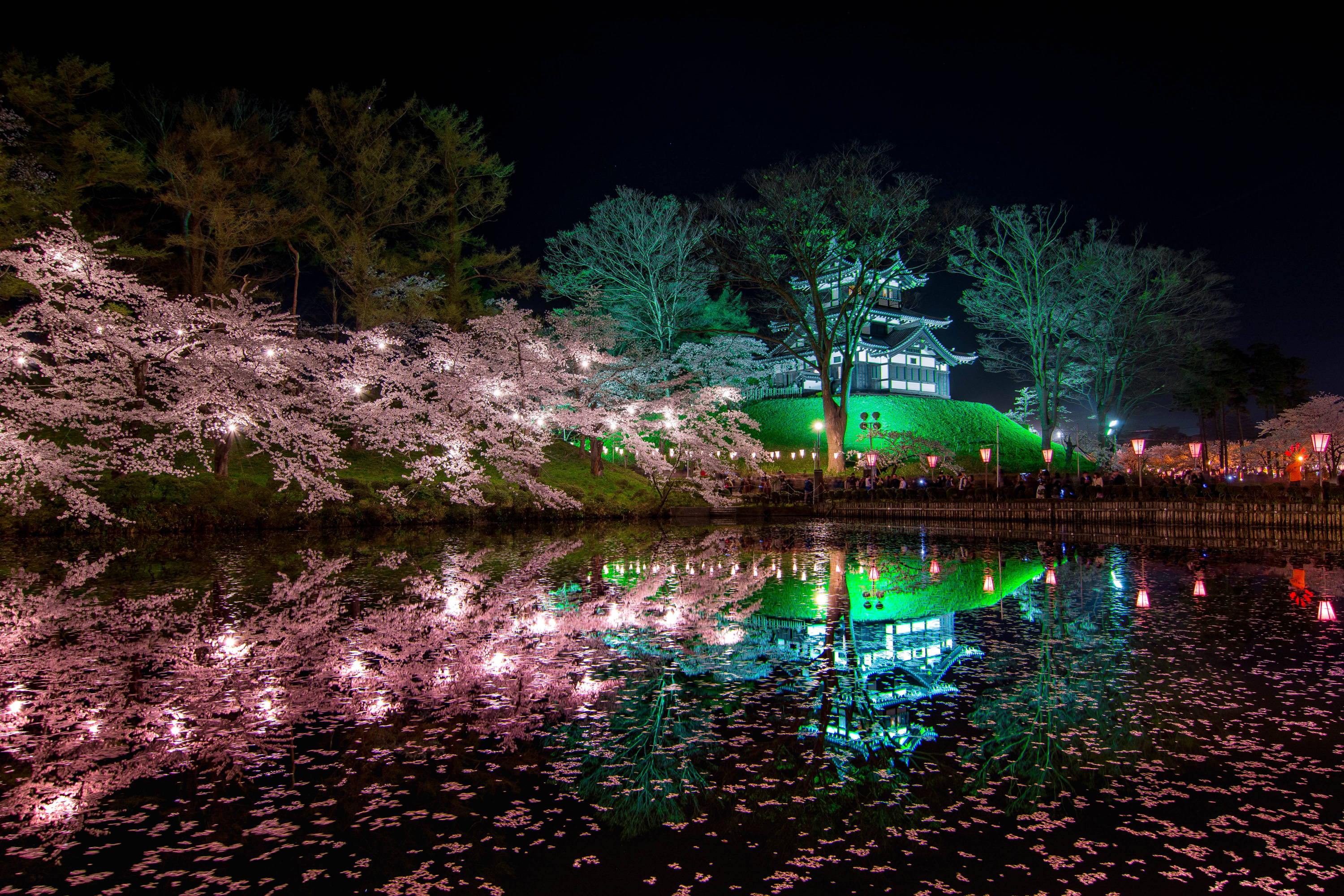 3. Takada Cherry Blossom Festival, Niigata Prefecture
The Takada Cherry Blossom Festival is a celebration of the sakura and a true spectacle to see at night. Located in the Niigata Prefecture, Takada Park is home to about 4,000 cherry trees.
At night, 3,000 paper lanterns set the park aglow during the spring. At the heart of the park stands the three-tier Takada Castle, which also gets lit up. The castle's moat reflects the sakura, surrounding the castle in blossoms from every angle. Visitors can also walk along "Sakura Road" and enjoy fireworks on the last day of the festival.
4. Takato Castle Park, Nagano Prefecture
Also called "Takatōjōshi Kōen," Takato Castle Park is located in the city of Ina, in Nagano Prefecture. Though what's left of the castle is largely in ruins, the park is still a great place for sakura viewing.
The park houses a unique variety of 1,500 Kohigan cherry trees, which were said to be planted back in 1875. Every year, a festival is held during the month of April, featuring stalls selling food and trinkets during the day and illuminations at night.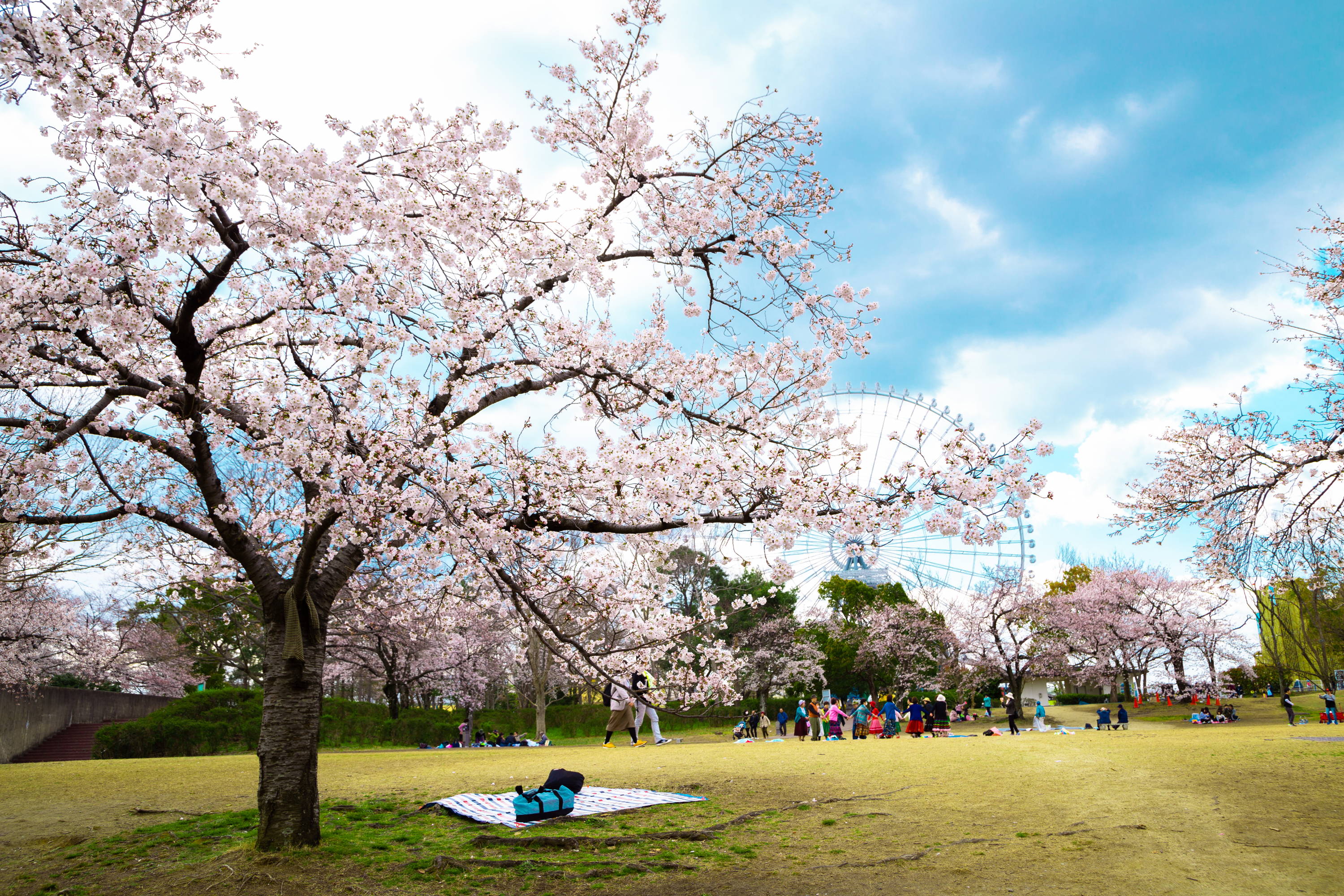 5. Expo '70 Commemorative Park, Osaka
The Expo '70 Commemorative Park or "Banpaku Kinen Kōen" is not only one of Osaka's best place for cherry blossom viewing, it also has an interesting history.
The Japan World Exposition in 1970 was a world's festival the exhibited more than 75 pavilions. After the Expo, this area was transformed into a public park, where certain features, like the Dream Pond and Tower of the Sun, still remain.
Today, Expo '70 Commemorative Park is a popular spot for viewing nature, thanks to its flower gardens, seasonal flower displays, and over 5,000 cherry trees.
6. Okazaki Canal, Kyoto
Located near Nanzen-ji Temple in Kyoto, the Okazaki Canal is an amazing spot for cherry blossom viewing, during the day and night.
Surround yourself with sakura by taking a boat ride on the water of the Okazaki Canal or by walking the path located alongside it. At night, boat rides are still available and the cherry trees are illuminated.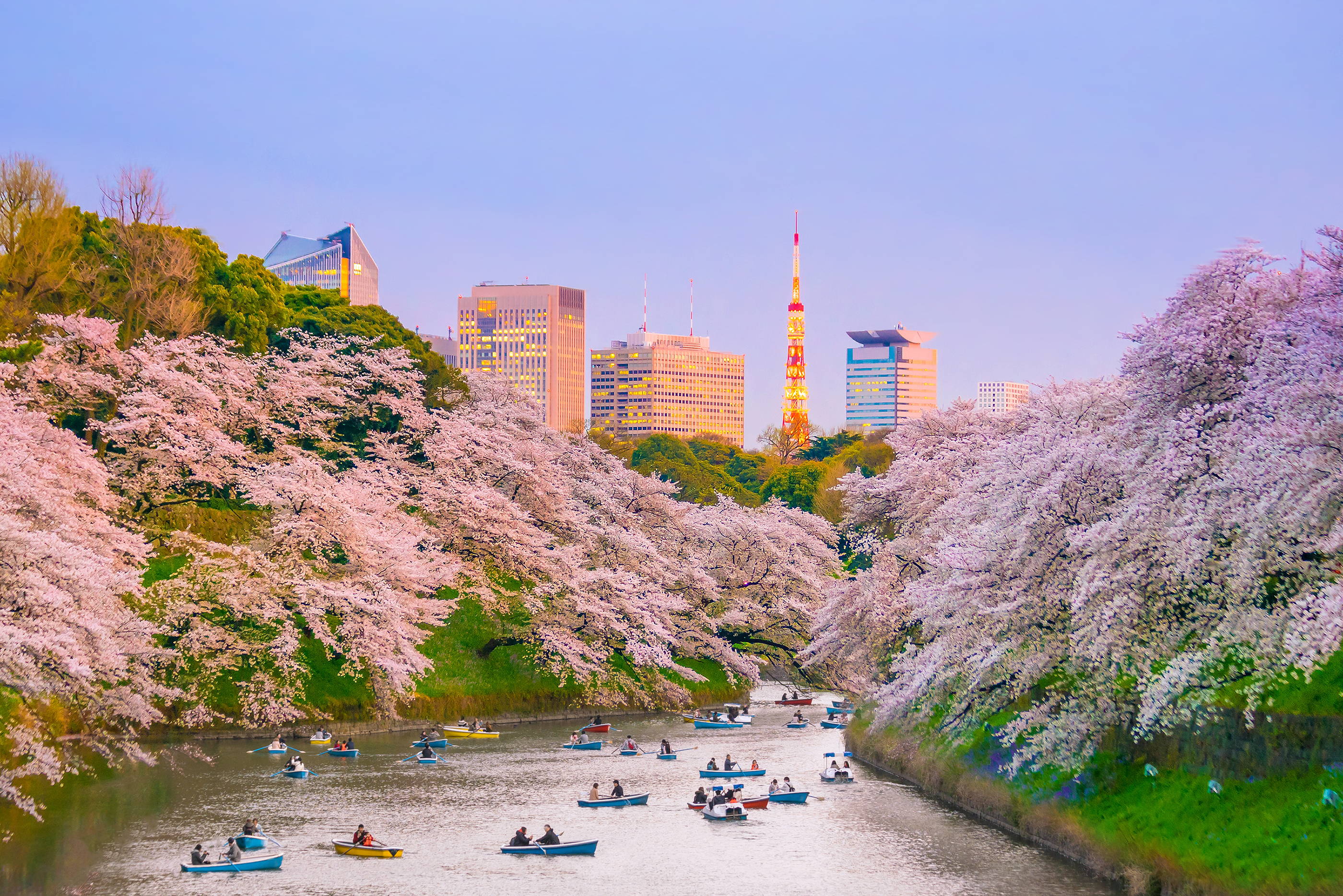 7. Ueno Park, Tokyo
Located right by Ueno Station in central Tokyo, Ueno Park is famous for its many museums, but it's also an amazing spot for Hanami.
Over 1,000 cherry trees line Ueno Park's central pathway, and those who choose to go to there can really celebrate the spirt of Hanami, since both picnicking and drinking are permitted on the grounds. As one of Tokyo's most popular sakura viewing spots, be aware that it can get very crowded.
8. Mito Sakura Festival, Ibaraki Prefecture
The spirit of Hanami can be felt throughout Mito city during the spring thanks to the Mito Sakura Festival.
Locations across Mito City and the Ibaraki Prefecture—like Rokujizo-ji Temple, Kairakuen Garden, Sakurayama, the banks of Lake Senba, Sakuragawa—celebrate cherry blossoms with tours, food, and illuminations.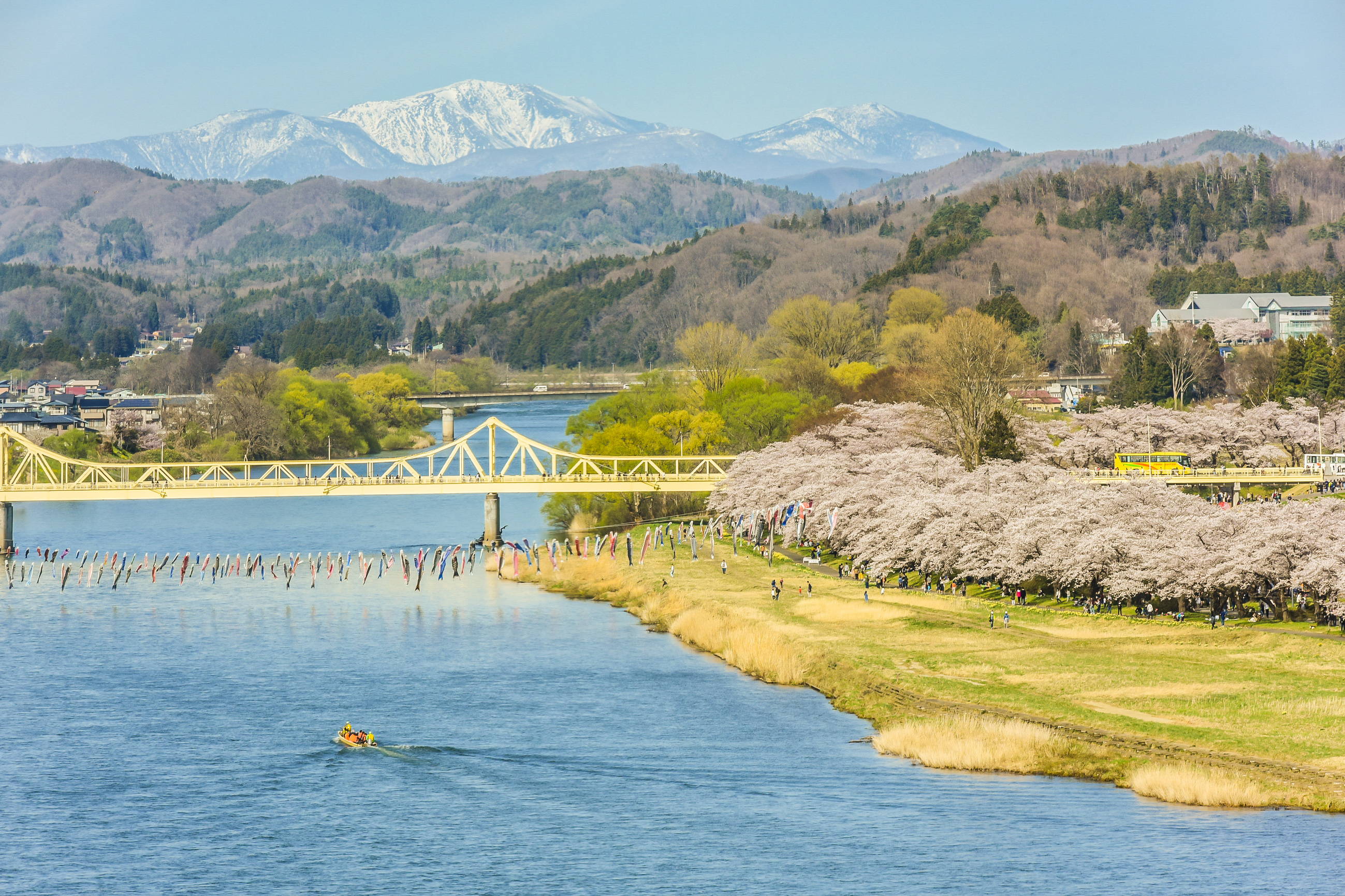 9. Kitakami Tenshochi Cherry Blossom Festival, Iwate Prefecture
Held at Kitakami Tenshochi Park in the Iwate Prefecture, this Cherry Blossom Festival is a celebration of sakura and one of the top three Hanami locations in the region.
Kitakami Tenshochi park spans 300 hectares and features cherry trees lining the sides of the park's walkways to create a canopy of flowers. Visitors can take a stroll on foot or ride in a horse-drawn carriage through the tunnel of flowers.
There are plenty of locations across Japan that offer amazing spots for cherry blossom viewing. Celebrating the season of spring and this special flower is an old Japanese tradition that will continue to last for generations.

---