The Ultimate Guide to Our Senbei Crackers
Made from toasted rice, senbei crackers are savory standbys that always surprise and satisfy Japanese snack fanatics. The crunchy creations come in an endless variety of sizes, shapes, flavors, and themes, with spicy, sweet, and savory options available, and are often served casually along with green tea. They're made from rice dough, formed into distinct shapes, and then either baked, fried, or grilled over charcoal.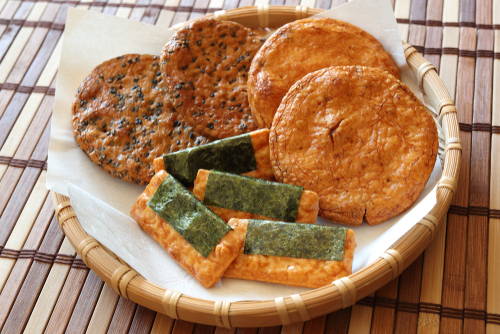 Though it is believed that the snack originated in China, Japanese senbei has been consumed for thousands of years. It was first made and sold in Sōka, a central Japanese city about 30 kilometers from Tokyo. The original Japanese rice cracker was a dried rice ball seasoned with salt, creating a shelf-stable snack that quickly became a huge hit and quickly spread throughout the country. It really became popularized in the Edo period (between 1603 and 1868), when it became readily available throughout Japan.
At Bokksu, we offer a huge selection of delicious Japanese senbei crackers featuring various types of fun flavoring, unique shapes, and seasonal or regional twists that will delight even serious senbei lovers. Use this guide to find your new favorite snack.
Types of Senbei Crackers
The many different types of senbei crackers out there makes this snack truly fascinating and varied. Because the rice dough is so versatile and can take on virtually any flavor or shape, it lends itself well to many special creations. Soy sauce, sugar, wasabi, kimchi, vinegar, lemon, teriyaki, matcha, mustard, turmeric, sweet potato, eel, and chocolate are all senbei flavors you can (and should!) try as you get to know this staple snack. Here are a few of the more common senbei categories.
Classic Senbei
Basic varieties may be salted or flavored with shoyu (soy sauce), mirin, or sugar. Sometimes, senbei are wrapped with nori (seaweed). Classic varieties like soy sauce and ebi (shrimp), as well as options flavored with red chili pepper or sesame, are commonly found in convenience stores and supermarkets throughout Japan. Want to try classic senbei? We recommend our Arigato No Kimochi Senbei.

Sweet Senbei
It is believed that sweet senbei made its way to Japan during the Tang dynasty, with the first record of it dating back to the year 737 A.D. There are many sweet versions of senbei, particularly the sugared senbei made with zarame sugar. Various kinds of fruit-flavored senbei are easily found throughout Japan today, with lemon, yuzu, and other fruits being especially popular flavors. One common type of sweet senbei, known as Kawara senbei, is made of flour, eggs, and sugar, and is commonly served with tea. It's often printed with images, patterns, or words written in icing.


Regional Senbei
Like all Japanese snacks, senbei differ widely from one region to the next. Some of the most famous and traditional regional senbei crackers include the nure senbei from Chiba Prefecture, which is a tender version that is generously dipped in soy sauce, as well as the kare (curry) senbei that comes from Hokkaido. Other regional favorites include the okonomiyaki sauce-flavored varieties from Osaka and mentaiko-flavored ones from Fukuoka. Indeed, you can taste the many corners of Japan through this classic snack.


Special Senbei
If you're looking for unusual and unique Japanese snacks, there are some special senbei options to consider. Though they're not made of rice, hone senbei, also known as fish bone crackers, are deep-fried eel spines that are lightly salted and crunchy. Other special types to try include the umami-rich Uni (Sea Urchin) Rice Crackers and cheese-flavored senbei. Look out for senbei in fun shapes, including hearts, flowers, and leaves. You may also want to try our squid or salmon senbei options.


Seasonal Senbei
The seasons inspire all kinds of special foods, drinks, and celebrations in Japan, so it's no surprise that there are many seasonal senbei to try throughout the year. From the autumnally colored Fall Foliage Senbei Rice Crackers for the fall months to the extra-special Cheese Okaki Plum Senbei celebrating the spring hanami (flower-viewing) season, there are plenty of season-inspired senbei options to try.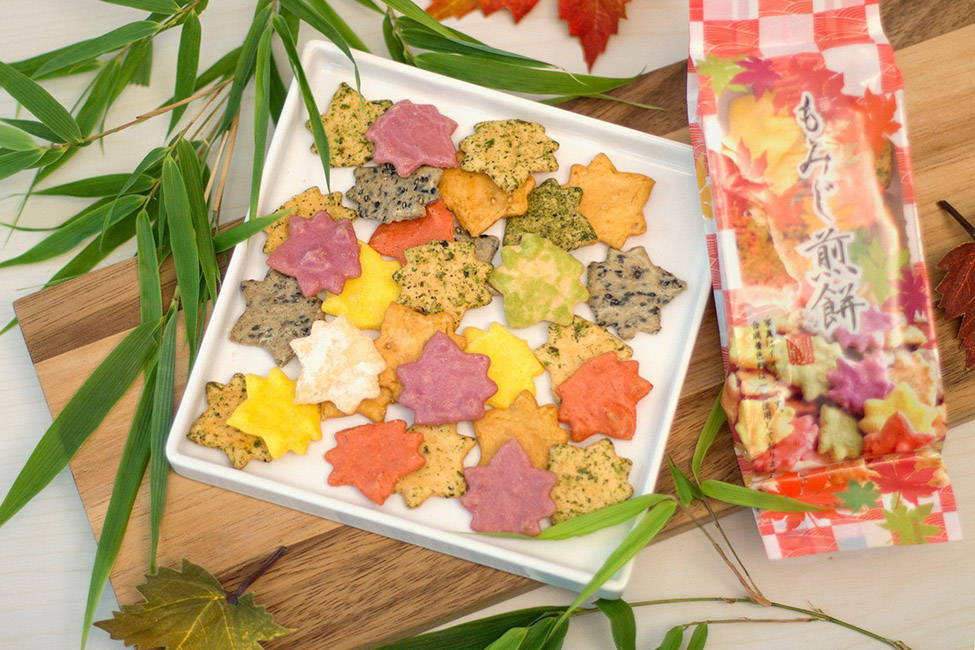 ---