6 Japanese Sweets for Valentine's Day
Roses are red, violets are blue, sugar is sweet, and so are you … 
Flowers, candies, and poems are just a few of the ways people express their love to each other on February 14. Though Valentine's Day has become a very commercialized holiday, it's still a big day for many people to get together and exchange gifts. In the United States, some people give greeting cards, while others may send roses or chocolates.
In Japan, it's completely about chocolate! There are even more interesting traditions on Valentine's Day in Japan, though. On February 14th, it is only women who give out chocolate. That doesn't mean men, or anyone else who received Valentine's chocolates, have it easy, though! A month later, on White Day, a holiday unique to Japan, the men who received chocolates are expected to return the favor.
On Valentine's Day, you're probably thinking about presents to give to people in terms of romantic partners, family, or friends. In Japan, there's also different levels of chocolate given out, and a whole set of Valentine's vocabulary to go with them too!
Honmei choco (本命チョコ; literally "favorite chocolate") goes to your truly loved ones. They can be handmade or chocolate bought from high-end confectioners. Best friends get tomo choco (友チョコ; friend chocolate). Finally, for male coworkers women don't necessarily want to give chocolate to, but feel like they need to, there's giri choco (義理チョコ; obligatory chocolate).
Needless to say, Valentine's Day is a pretty big deal in Japan! This Valentine's Day, how about treating your loved ones to the sweetest Japanese snacks!
Love in Luxury
Sure, you could give jewelry on Valentine's Day but, if the way to your loved one's heart is through their stomach, they'll adore these glamorous goodies!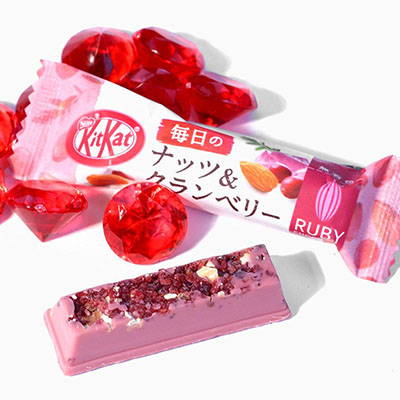 Japanese Kit Kats: Luxury Edition
The Ruby Chocolate Nuts + Cranberry Japanese Kit Kats are embedded with dried cranberry pieces that gleam like gems! Living up to their name, these vivid pink Kit Kats are made from unfermented ruby cocoa beans. Be sure to also check out the Cranberry and Almond edition, which features whole almonds and cranberries in a rich dark chocolate. Both of these are part of the Mainichi no Zeitaku "everyday luxury" line of Kit Kats, which are made with premium ingredients.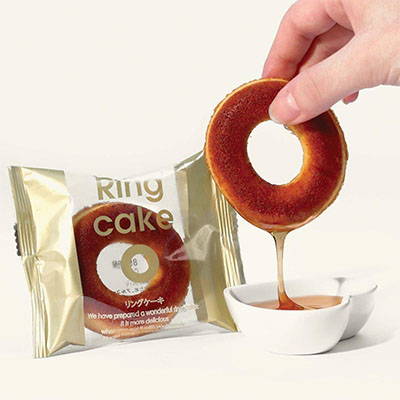 Yokohama Caramel Ring Cake
Rings represent love and devotion, so, for the sweetest person in your life, how about a ring-shaped cake? Each caramel-infused cake is dipped again in caramel, which keeps it soft and moist. Is it then bruléed, resulting in a warm, golden-brown color.

Kinako Azuki Crunch
For the partner or friend with a heart of gold, give them this sweet treat made with uniquely Japanese ingredients from the heart of the old capital, Kyoto! Kinako is a flour made out of roasted soybeans and gives this crunchy snack its golden color and nutty flavor. Real pieces of azuki red bean are sprinkled throughout for a burst of sweetness and a change in texture.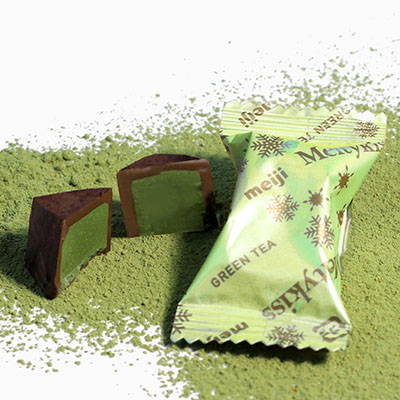 Melty Kiss Matcha
The Melty Kiss series of chocolate truffles is exclusively sold in the winter in Japan. The chocolate is dusted in cocoa powder and melts in your mouth like snow, revealing a flavorful ganache center. Melty Kisses come in a couple of flavor options, including matcha, kinako, and strawberry. The matcha is one of our favorites because of how well the dark chocolate harmonizes with the bitterness of the green tea center.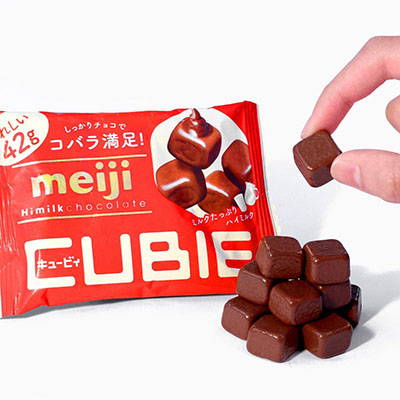 CUBIE "Hi" Milk Chocolate
These smooth chocolate cubes boast a higher milk content, resulting in a smooth, melt-in-your-mouth experience. While Melty Kiss chocolates are more for savoring, it's hard not to gobble down a whole bag of the CUBIE chocolates in one go! A bag of these is perfect for the sweet tooth who prefers milk chocolate over dark chocolate.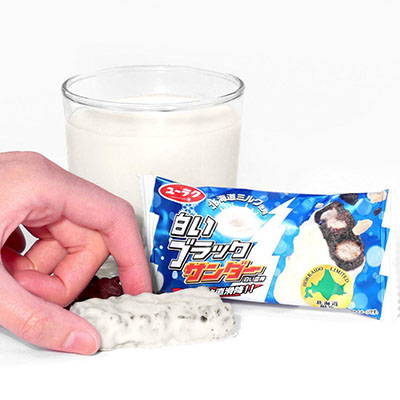 Black Thunder is one of Japan's most popular candy bars that you can buy at nearly any convenience store, and it's even earned the title of the "King" of giri chocolate. Sure, it may have that reputation, but we adore this satisfyingly crunchy snack infused with chocolate, cookie chunks, and puffed rice. The White Black Thunder is special in its own right, too, not only because it is covered in an extra layer of white chocolate but also because it can only be bought in the snowy region of Hokkaido!
We hope you've enjoyed learning about Valentine's Day traditions in Japan! Find inspiration for unique ways to sweeten that special day with Japanese snacks and treats or a Japanese snack subscription box, whether it's for friends, family, or a significant other.

---