Halloween in Japan: The Best Japanese Candies for Trick-or-Treaters
Halloween is upon us, and that means pumpkin spice everything and time to figure out what costume to wear on the 31st! Even in Japan, cute pumpkins light up store fronts and ghouls decorate train fronts. However, did you know that about twenty years ago, most people in Japan didn't really know about Halloween? What changed that, and how has Japan added their own spin to Halloween?
Tokyo Disneyland sparked the initial wave of Halloween fever back in 2000 with their first ever Halloween event. Needless to say, Halloween in Disneyland was a hit and it is now an annual tradition to see the park decked out in Halloween decor and your favorite Disney characters in special costumes. Meanwhile, right next door at Tokyo Disney Sea, the resort attraction, you can watch the special attraction on water, The Villains World, which stars everyone's favorite villains like Maleficent from Sleeping Beauty and Hades from Hercules. Other theme parks followed suit, like Universal Studios Japan, which hosts zombie horror nights where you can run through the streets and be chased by zombies.
Since then, Halloween has grown in popularity and more and more Japanese people are joining in on the festivities! While trick-or-treating isn't a custom, dressing up for the evening has picked up in recent years. Major cities like Tokyo now hold street events, where people roam the streets in costumes. The biggest and most well known one is the Shibuya Halloween street party. For cat lovers, there is the Bakeneko ("demon cat") Festival in Kagurazaka in mid-October, where people dress up as cats.
This doesn't mean that trick-or-treating hasn't been adopted in its own way in Japan! Stamp rallies are already common in shopping centers, where people go around to different spots to collect stamps, and once they collect all of them they receive a prize. There are a growing number of shopping centers that do this for Halloween, luring in kids (and their parents) to their storefronts where the end prize is candy.
Food companies have cashed in on Halloween too, releasing limited edition Halloween-themed items. For Starbucks fans in the United States, it's all about the pumpkin spice latte, but Starbucks Japan releases special themed drinks such as this year's masquerade party-themed drinks including a red raspberry mocha frappuccino. In the past, fast food giants like McDonalds and Burger King in Japan made dark burgers with black buns (colored with squid ink or charcoal) as a spooky offering.
Tons of Halloween-themed snacks also fill up the shelves in Japanese groceries and convenience stores in October. Fan favorites like Pocky get special packaging with little ghosts and witches. Kit Kat releases a caramel pudding flavor in bright orange packaging. You might even see Hello Kitty dressed up as a pumpkin to advertise your favorite cookies! Japan loves making limited edition snacks exclusive to the season, and Halloween is no exception. If you're looking for unique Japanese candies to give out during Halloween, check out some of these fun treats!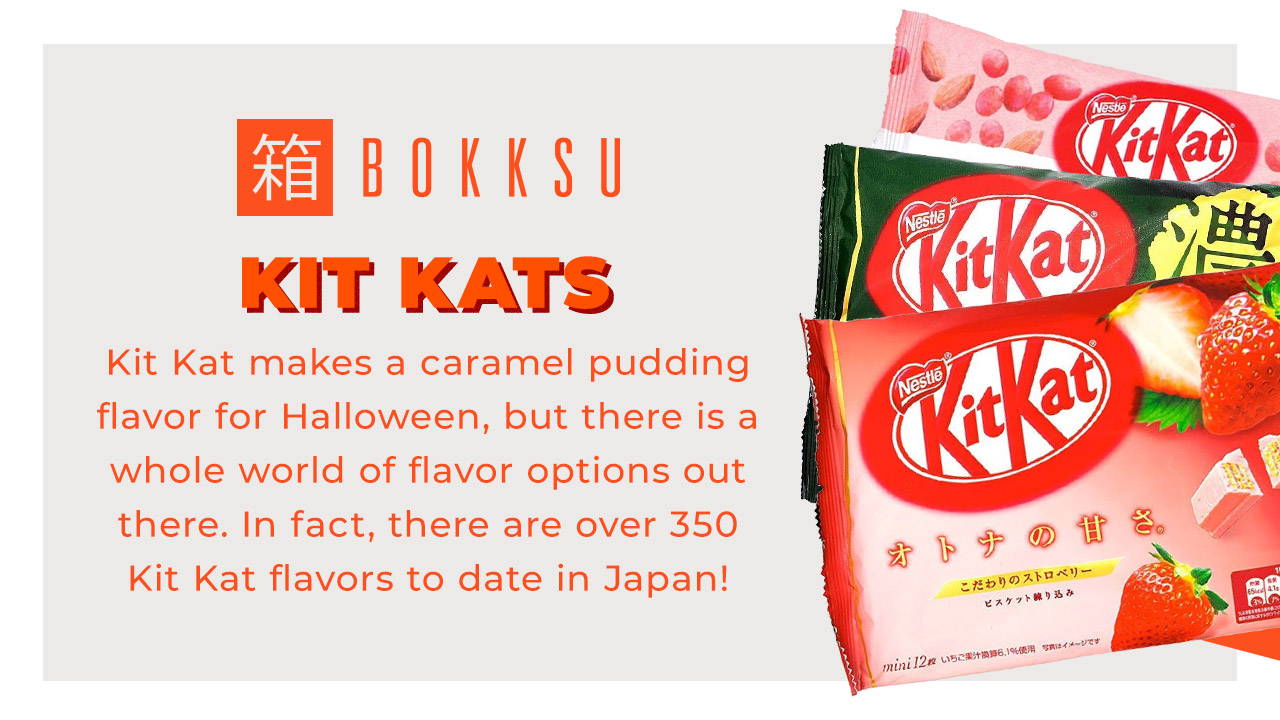 Kit Kats
We already mentioned that Kit Kat makes a caramel pudding flavor for Halloween, but there is a whole world of flavor options out there. In fact, there are over 350 Kit Kat flavors to date in Japan! Another great thing about Japanese Kit Kats is the colorful and eye-catching packaging that is excellent for handing out during Halloween. Be sure to check out some of the most popular flavors, including strawberry or green tea Kit Kats!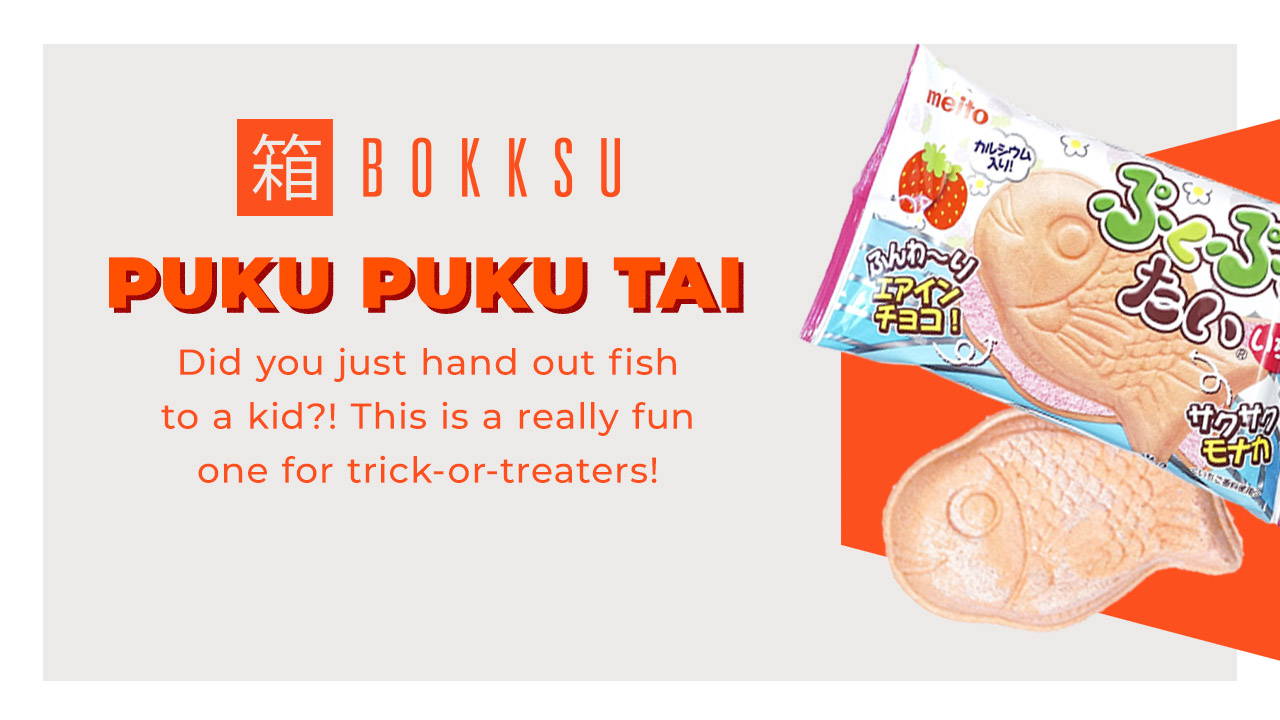 Puku Puku Tai
Did you just hand out fish to a kid?! This is a really fun one for trick-or-treaters! Don't worry, this sweet treat is actually a fish-shaped mochi wafer filled with chocolate. Taiyaki is made by pouring batter into a fish-shaped mold and is a standard food item at festivals. Traditionally, it is filled with red bean, though you can also find variations like custard, strawberry cream, and so much more!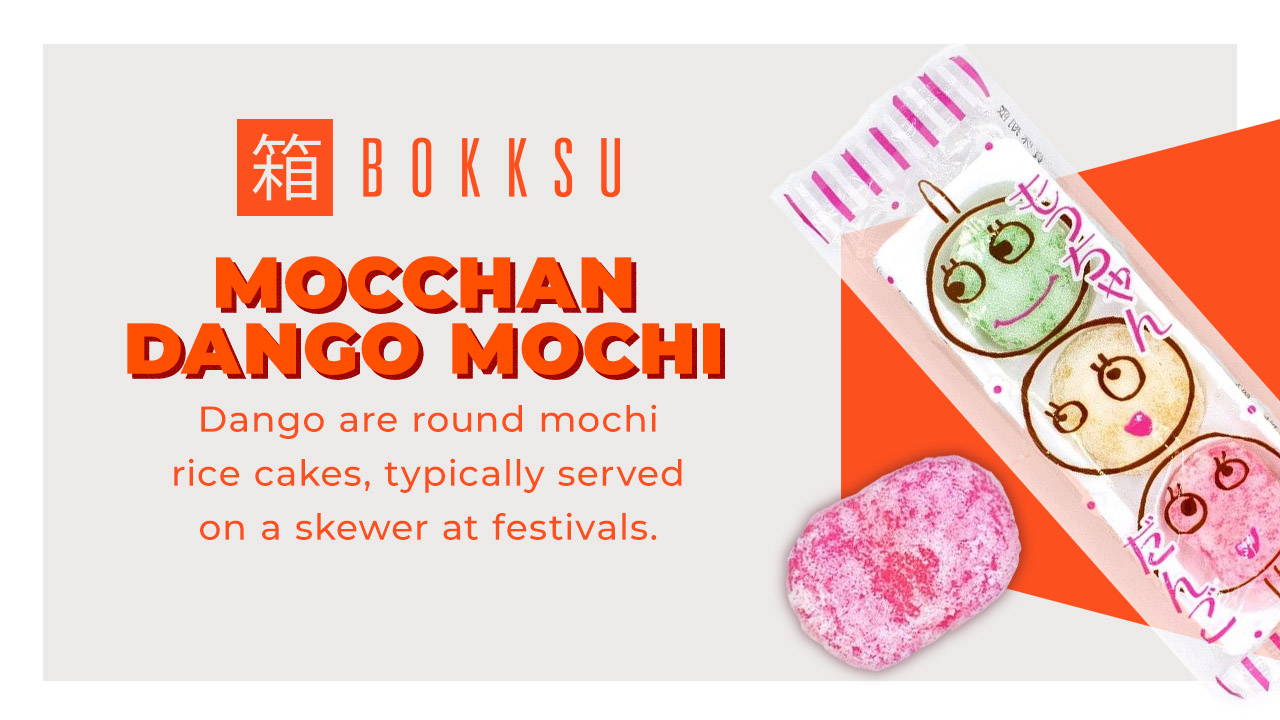 Mocchan Dango Mochi
Here's another take on a common Japanese street food! Dango are round mochi rice cakes, typically served on a skewer at festivals. The dango have been transformed into miniature, candy-sized versions and come in adorable packaging. The sugar coating and chewy texture is sure to be a hit with kids.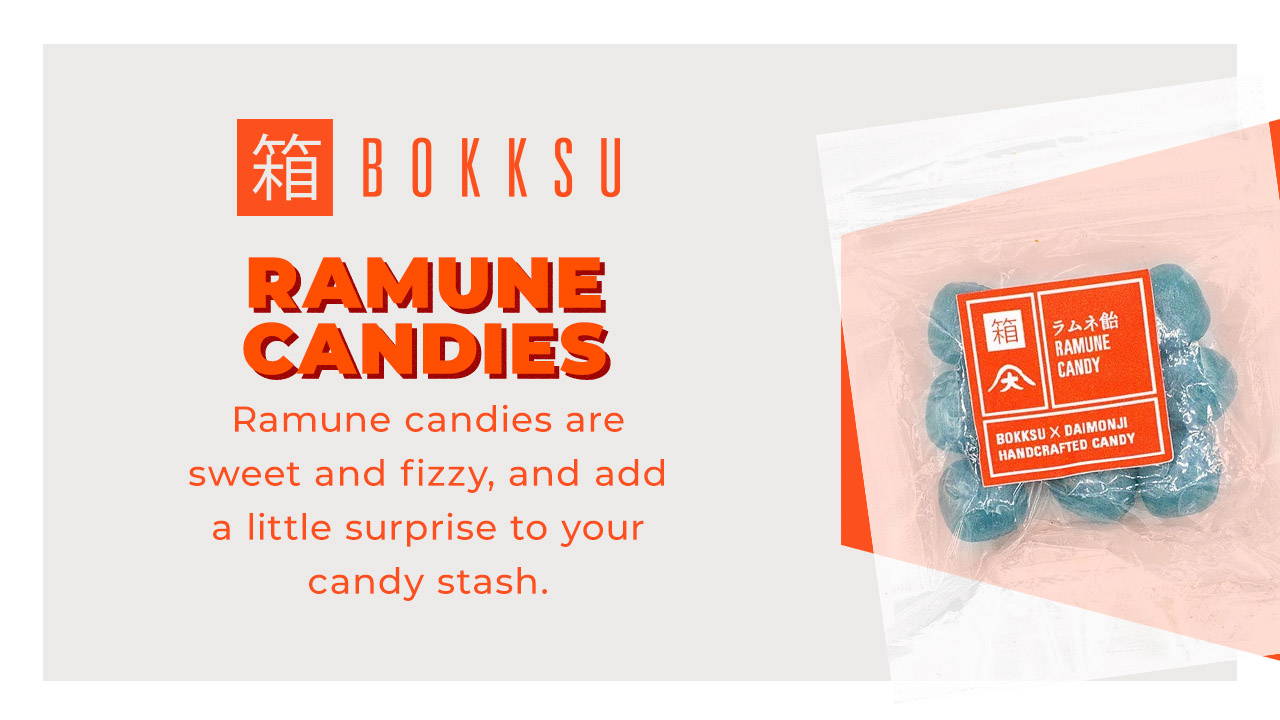 Ramune Candies
Ramune is a Japanese soft drink in a distinctive glass bottle. The bottle is characterized by a glass marble at the mouth, which needs to be pushed down in order for you to drink it. The drink is especially popular with kids, or anyone who loves soda! Ramune candies are sweet and fizzy, and add a little surprise to your candy stash.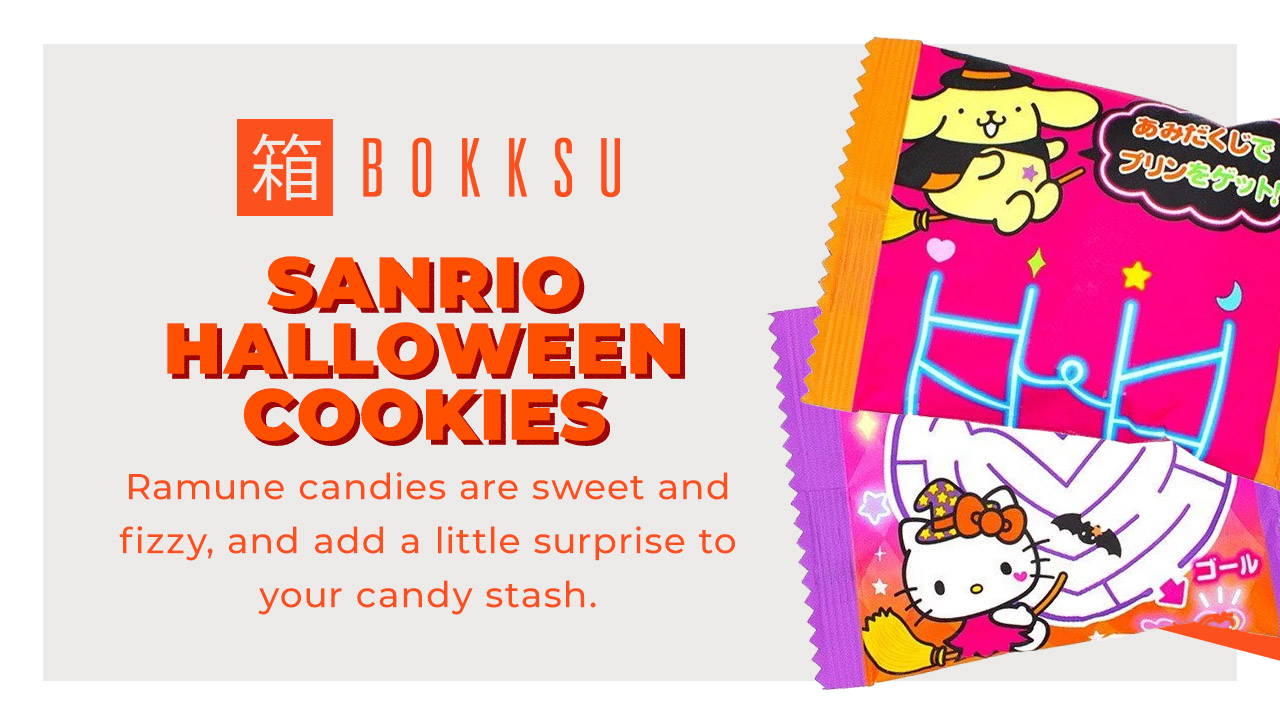 Sanrio Halloween Cookies
Hello Kitty is a character loved all over the world, and she's here to celebrate Halloween with these Sanrio-themed cookies! She also brings along her friend, Pompompurin, a golden retriever whose yellow coloring and brown beret are inspired by purin, or Japanese custard pudding. Pompompurin's cookies come with a creamy, pudding-flavored center filling, while Hello Kitty's is a chocolate ganache. The Sanrio-themed packaging on these cookies also come with little games like mazes to catch trick-or-treaters attention. Young or old, any Hello Kitty fan will love this assortment of Sanrio-themed cookies.
Are you ready to intrigue trick or treaters with some of the most interesting and delicious treats on Halloween? Discover our wide selection of Japanese candies and treat yourself to the best Japanese snacks today!
---