Christmas in Japan: KFC, Christmas Cake, and Other Traditions
For many Americans, the winter season is synonymous with the holidays, especially Christmas. While the West has its own holiday traditions-like decorating the home inside and out, Santa Claus delivering presents, and feasting on seasonal meals and treats-the Japanese celebrate with traditions of their own.
Japanese Christmas traditions differ from those celebrated in places like Europe and America, but for everyone it's a season for spreading happiness. In particular, KFC in Japan for Christmas celebrations is one of the major highlights throughout the holiday season. Read on to learn how they celebrate Christmas in Japan!
Dinner of KFC
In Japan, fried chicken is typically eaten for dinner on Christmas Day-but it's not just any chicken. Getting Christmas dinner from Kentucky Fried Chicken is a very popular tradition in Japan. It's so popular in fact, that reservations have to be made well in advance to avoid standing in line for hours to get your meal.
What makes KFC such a must-have for Christmas dinner in Japan? The tradition can be traced back to 1974, when KFC Japan released a "Kentucky for Christmas" campaign that highlighted KFC as the perfect Christmas dinner, drawing comparisons to America's traditional turkey dinner. The Christmas campaign was a commercial success to the point where KFC Christmas meal boxes sell out and are encouraged to pre-order each year.
Seasonal Get-Togethers
Many Americans see the holidays as a time for family, but such is not the case in Japan. Rather than being a religious celebration or national holiday, Christmas in Japan is more of an occasion for couples and occasionally friends.
While schools are closed Christmas Day, it's often a normal working day for professionals. What's more, the giving and receiving of cards and gifts among family members is more of a New Years activity.
Christmas in Japan is more like Valentines Day in America, where only couples exchange gifts on Christmas Eve. In Japan, Christmas Eve is seen as a romantic affair. Couples give each other presents, go out to eat at a nice restaurants, and take walks to look at winter illuminations.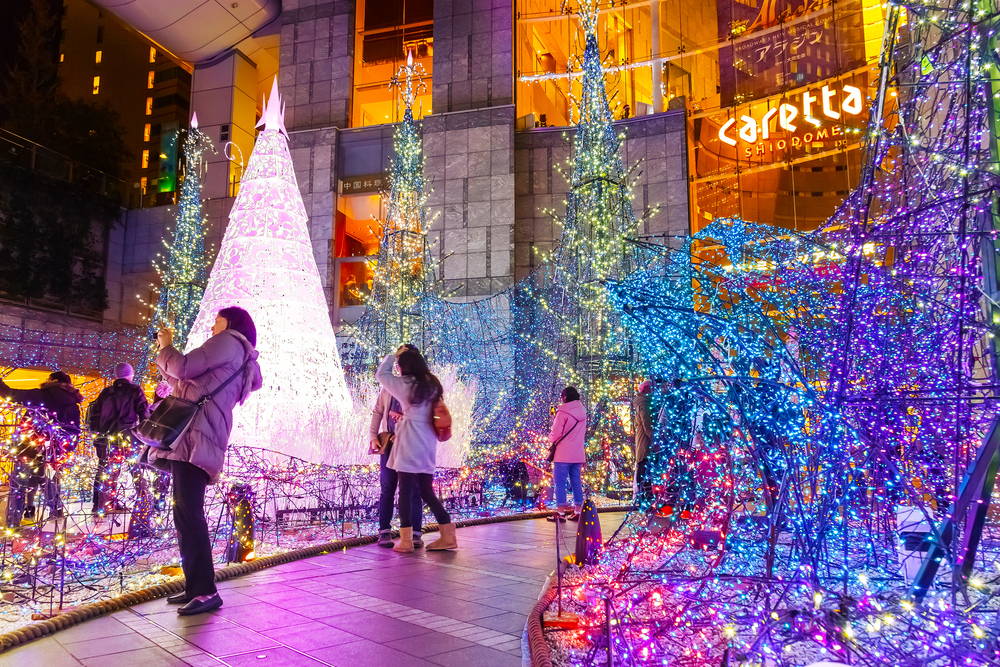 Credit: cowardlion / Shutterstock.com
Japan's Winter Lights
Japan's winter illuminations, or light displays, are similar to those you'd find in the United States. In both countries, trees, store fronts, and other buildings get decked out with glittering strings of lights in celebration of seasonal festivities.
Winter illumination events, like parades and walk-throughs, are held in cities across Japan, often happening in November and December—but some can start as soon as October and last all the way to Valentines Day.
Visiting Tokyo Disneyland
Another Christmas tradition for those who call Japan home is visiting Tokyo Disneyland. Happening from November 8 through December 25 in 2019, Tokyo Disneyland celebrates the holiday season with an amazing "Disney Christmas" event.
The event features a plethora of top-notch decorations, a parade, as well as plenty of other entertainment. No matter where in the world the park is located, Disney knows how to do Christmas, with Tokyo Disneyland seeing tons of visitors each season.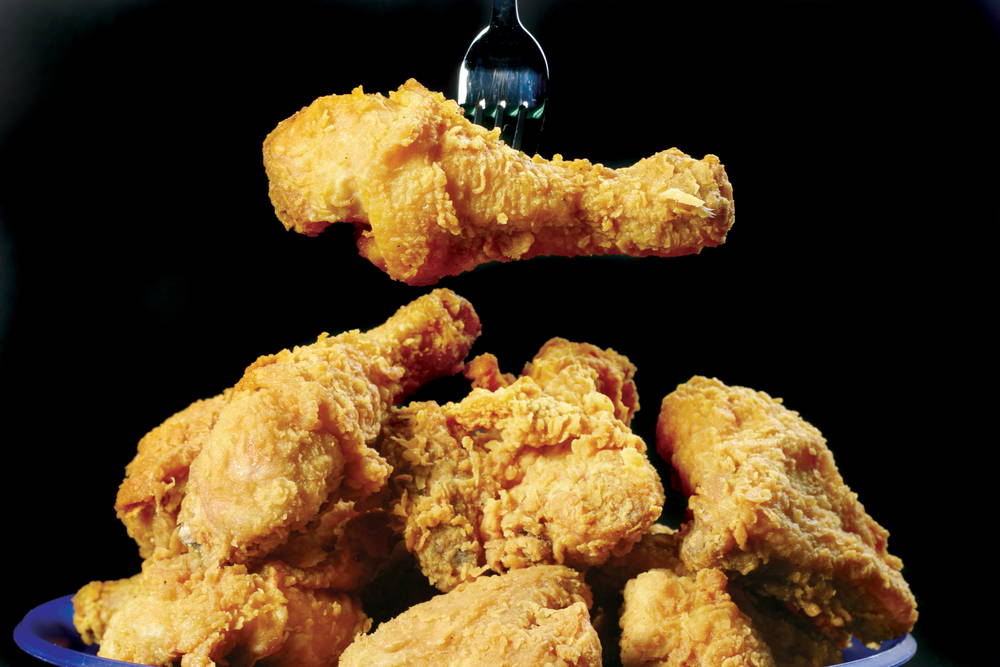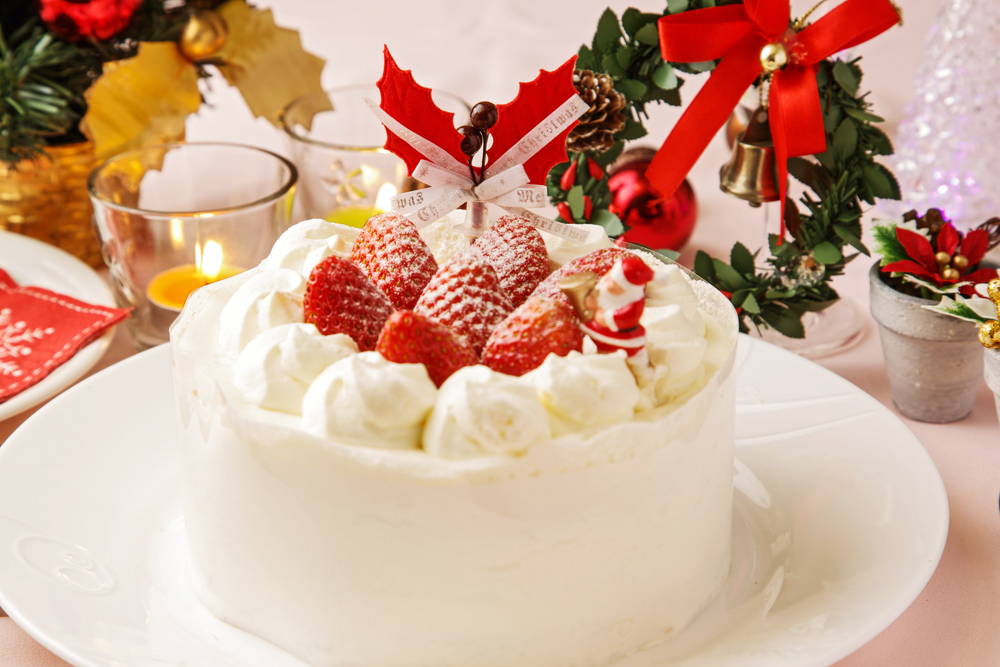 Dessert
In places around the globe, sweets are an important part of celebrating the holidays. While we typically think of treats like Christmas cookies— sugar, chocolate chip, snicker-doodle, etc.—the Japanese have their own go-to Christmas dessert: strawberry cake.
Similar to a strawberry shortcake mixed with an angle food cake, Japanese Christmas Cake or kurisumasu keki is a fluffy sponge cake layered with fresh, juicy strawberries and delicious whipped cream. This sweet treat is the perfect compliment to a savory KFC dinner.
Music
As soon as the day after Halloween, many of us start to hear holiday music everywhere from grocery stores to shopping malls. While we have a wide array of Christmas music—from classics to covers and the occasional new addition—Japan has somewhat of a favorite Christmas song.
That song is Beethoven's Ninth Symphony—specifically its final act, the "Ode to Joy." This piece of music is so famous in Japan, that it's simply referred to as "daiku," which means "number nine."
During the holiday season, people from all walks of life choose to spread joy through food, music, and other traditions as the year comes to an end. No matter how or where you celebrate, we wish you happy and healthy holidays and a merry Christmas to you and yours!

---