5 Places to Get Close to Nature in Japan
What could be more adorable than an animal? How about seeing hundreds—even thousands—of cute animals living their lives out in nature!
Animal-lovers will obsess over these spots where encountering wildlife is essentially a guarantee. Check out our favorite places across Japan where you can see wildlife and enjoy nature at the same time.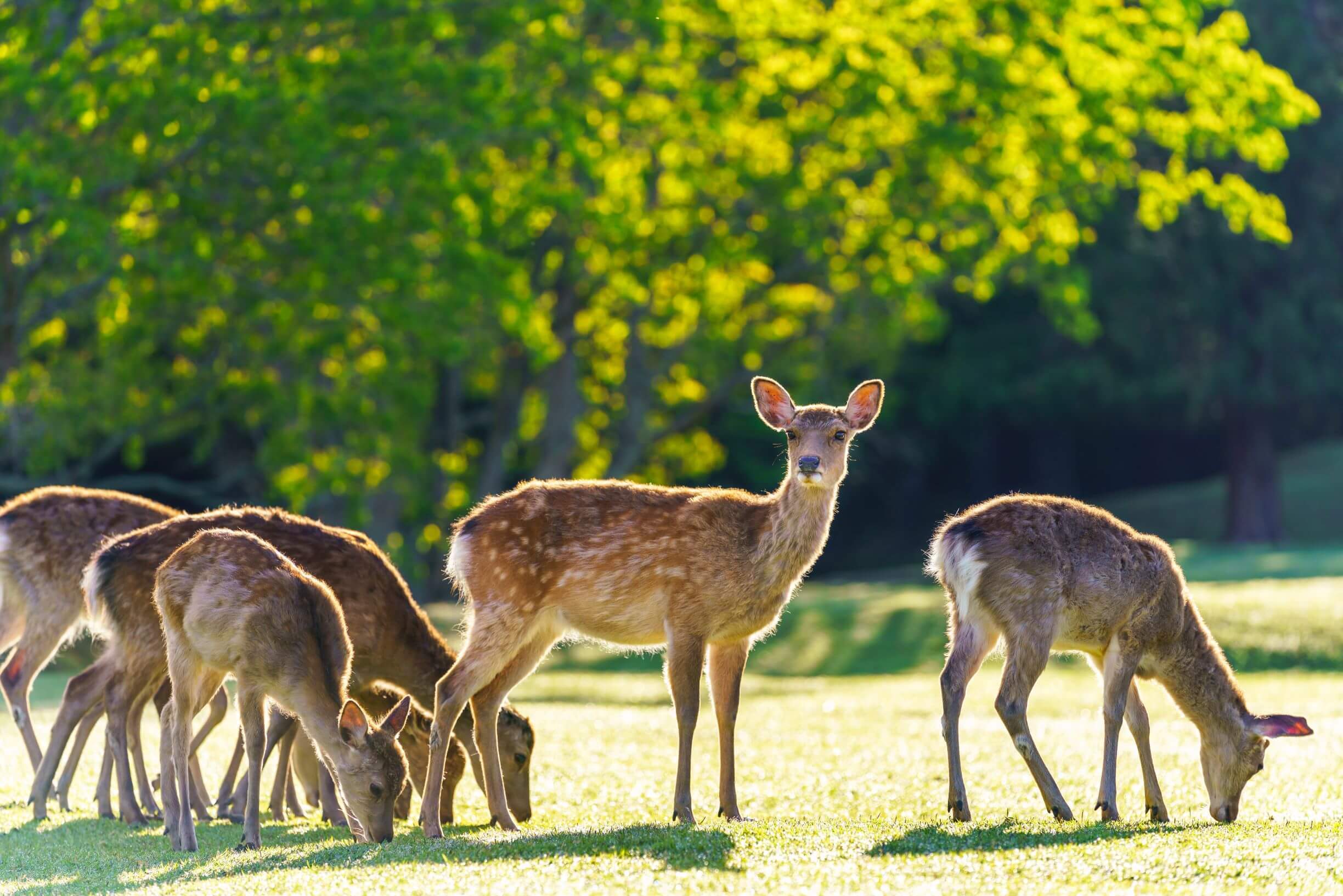 Nara Park
Located at the foot of Mount Wakakusa, Nara Park or Nara Kōen is home to over 1,000 free-roaming, shika or sika, spotted deer.
The 140-year-old public park is one of Japan's oldest and spans over 1,200 acres. The grounds also feature two Buddhist temples (Tōdai-ji and Kōfuku-j) and one Shinto shrine (Kasuga Grand Shrine). Visitors can check out the Nara National Museum, peruse temple gardens, and take a stroll along the park's paths, spotting deer along the way.
Not only are sika deer cute, they're officially designated as a national natural treasure in Japan. The park offers visitors crackers called "shika-senbei," and these deer typically aren't shy. They'll actually approach visitors looking for treats, which some have apparently learned to bow for. Though deer are gentle creatures, males can become aggressive.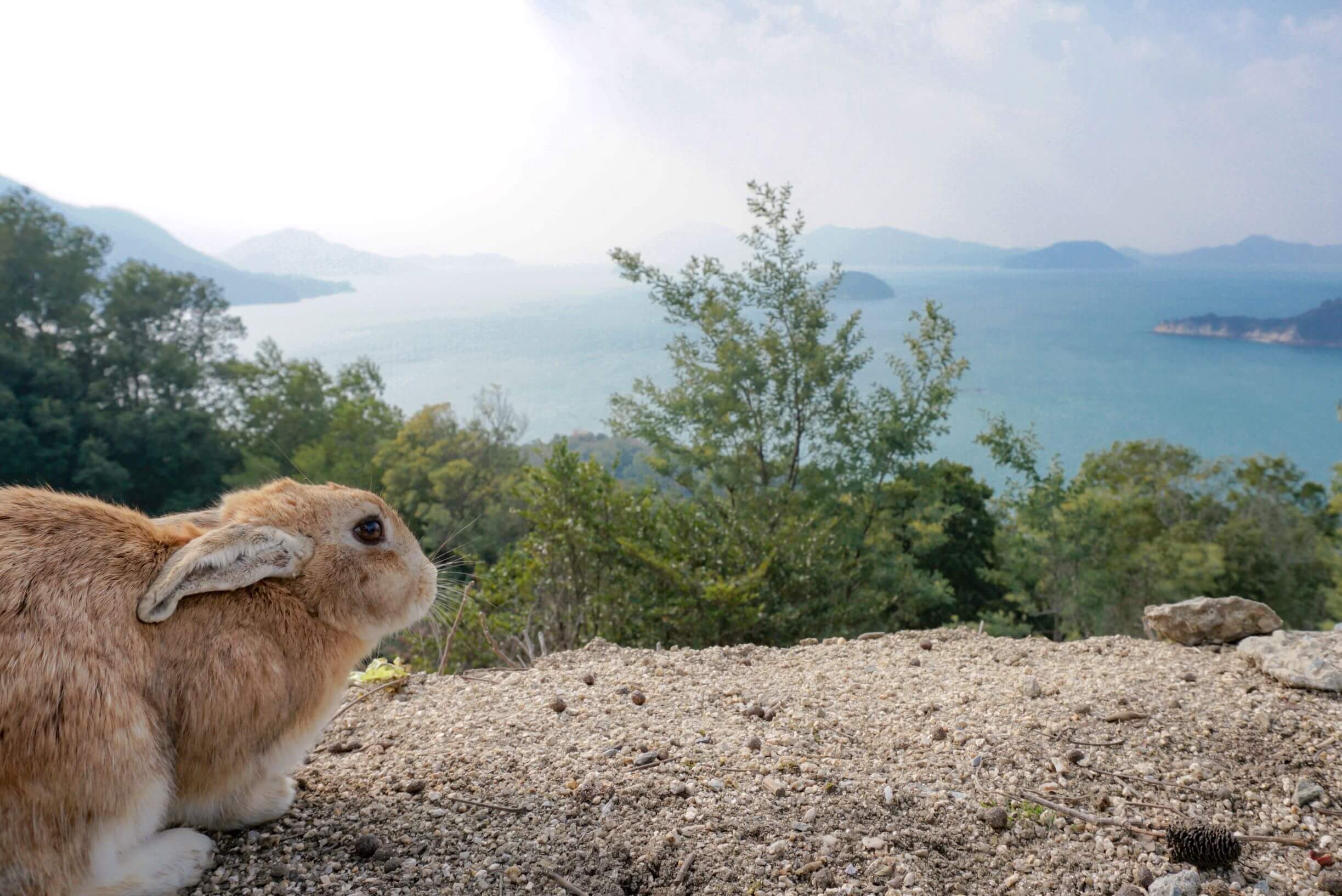 Rabbit Island
The island of Ōkunoshima, located in the Inland Sea of Japan two miles off the coast of the city of Takehara, is also known as Usagijima or Rabbit Island. This island is home to over 1,000 wild rabbits and features campsites, historic sites, and walking trails for visitors to enjoy.
Ōkunoshima's bunnies are safe from predators, since hunting, cats, and dogs are all banned. Though these rabbits are wild, they will approach non-threatening humans. Not only are bunnies adorable, they are symbols of fertility and luck.
Feeding the rabbits is actually discouraged, because they have particular digestive systems. But if you—like the many who have visited before—simply can't resist feeding a bunny, look up what rabbits eat before bringing a treat. Rabbits are herbivores, meaning they like fruits and veggies, but certain ones, like avocado, cabbage, potato, tomato and some fruit seeds are not healthy for rabbits.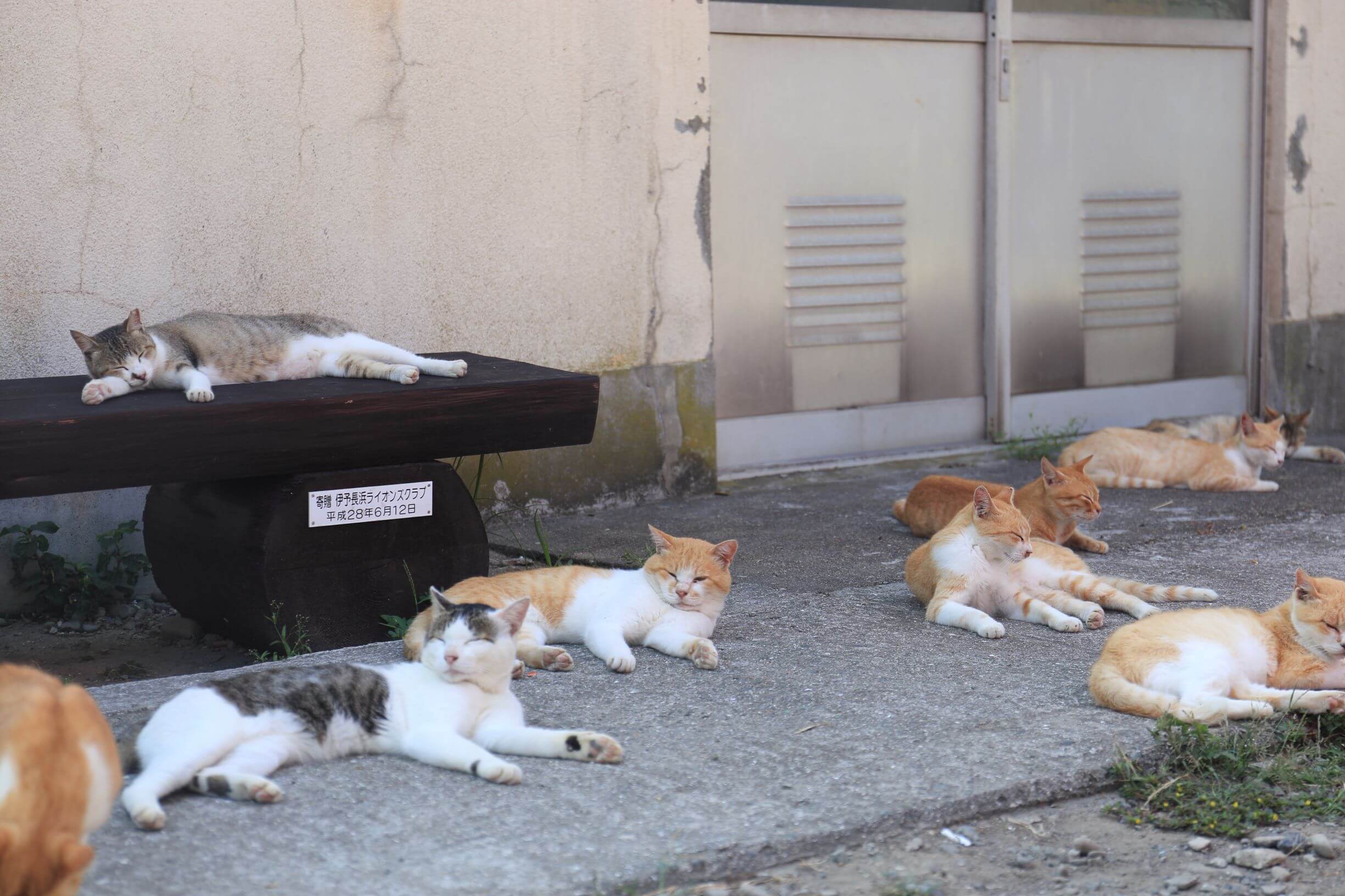 Cat Islands
The islands of Tashirojima in Miyagi prefecture and Aoshima in Ehime prefecture are two of Japan's cat or neko islands, where there are actually more felines than people. A group of cats is called a clowder, and there are tons of clowders on these islands.
Cats were originally brought to Aoshima Island to help fishermen deal with rodents. Similarly, Tashirojima Island—where people fished and raised silkworms—also attracted mice, and so cats were introduced to help.
Not that we're picking favorites, but Tashirojima Island is arguably the most cat-positive. The residents are truly all about cats. Dogs aren't allowed and there's a cat shrine called Neko-jinja located at the center of the island.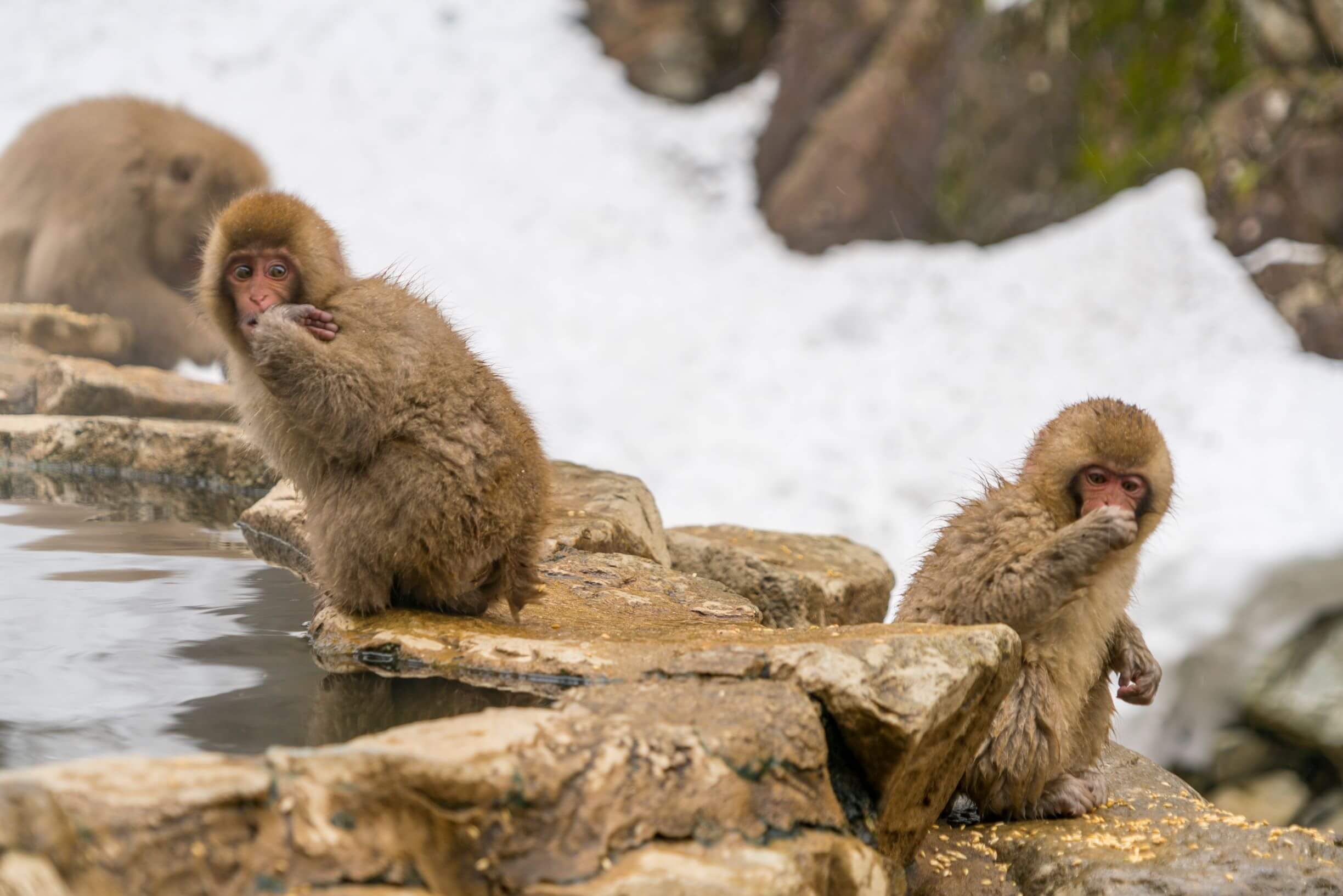 Jigokudani Monkey Park
Located in the Valley of the Yokoyu River, this park, also called Jigokudani Yaen Kōen, is part of the larger Joshinetsu Kogen National Park. Jigokudani Monkey Park has been around since 1964, and the area is the natural habitat of wild Japanese macaque, also known as snow monkeys.
Visitors can watch as these adorable primates gather in their social groups and take baths in the natural hot springs. The monkeys cannot be touched or fed—they are wild after all—but they have become comfortable enough around humans to allow them to get close enough to watch them bathe. It's fun to watch them interact and enjoy the cozy hot spring.
Visitors can also walk through the park and/or visit the small information center. Though most of the info is in Japanese, there are pictures of the park's current and previous alpha males.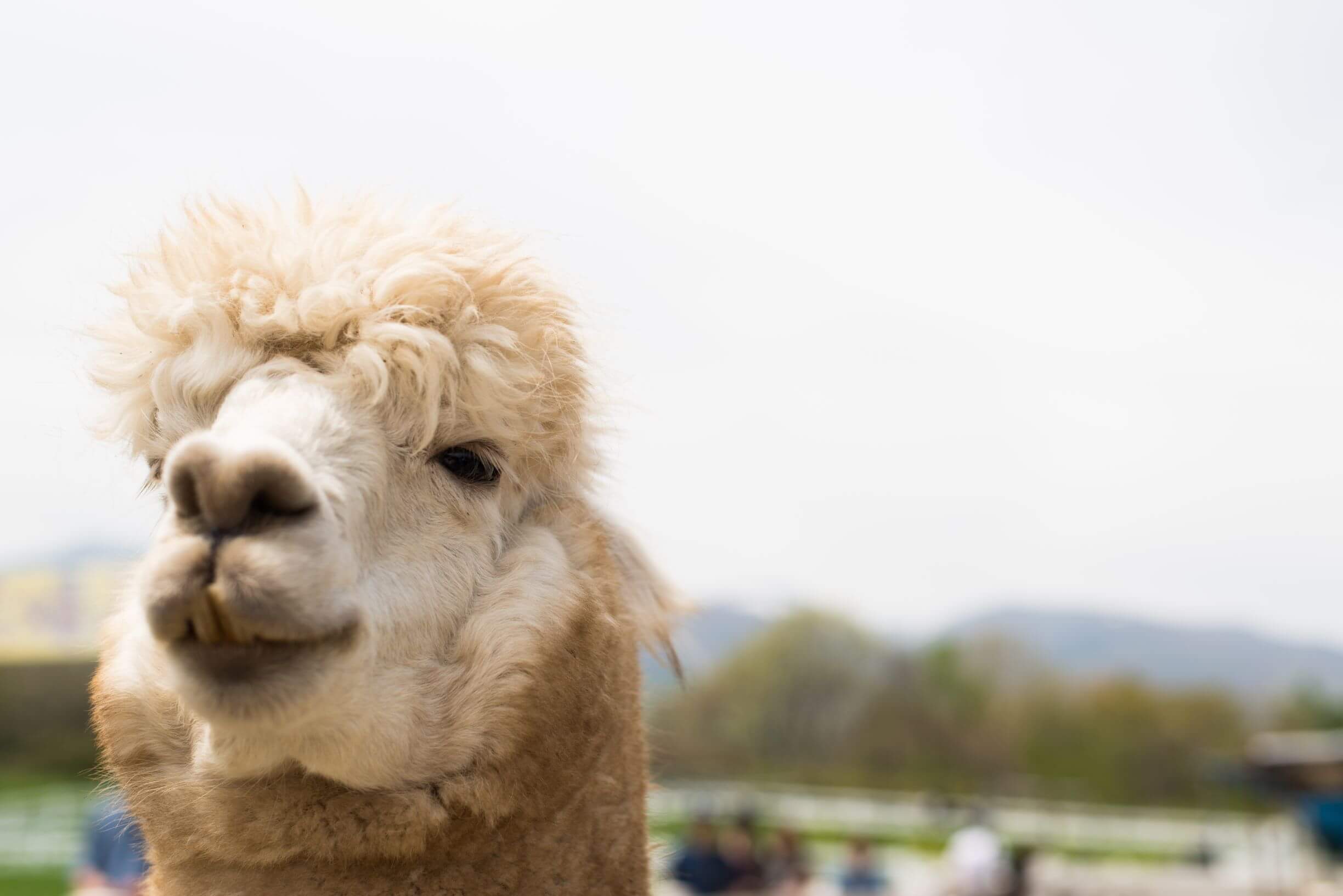 Nasu Alpaca Farm
The self-proclaimed first and largest alpaca farm in all of Japan, Nasu Alpaca Farm is home to roughly 400 alpacas. The farm, which attained its first alpacas in 1999, is large and surrounded by gorgeous mountains along the horizon.
Alpacas are sheared for their wool, which is super soft. Between their fluffy fur and fluttery lashes, it's way too easy to fall in love with alpacas. Being farm animals, the alpaca are relatively tame and friendly. They can be fed, walked, and posed with for photos. Though, like llamas, if an alpaca is pestered, they may just spit on you.
Whichever type of wildlife you prefer, there are plenty of chances to have a close encounter with an adorable animal in Japan.

---