5 Best Japanese Teas for Winter
Tea "ocha" is the most commonly consumed beverage in all of Japan, but it's also an important aspect of Japanese culture. Tea first came to Japan from China during the Nara Period (710-794). It was originally viewed as a luxurious and medicinal product, and so it wasn't widely available to the public. Hundreds of years later, tea would be grown across Japan and become popular among a majority of Japanese citizens.
Today, tea is served at essentially all Japanese restaurants, often with or following a meal. It's also offered to tourists at some temples and gardens. Both hot and cold varieties of tea can be found in vending machines around the country.
Though green tea is the most popular, Japan is known for vast array of teas, including black, red, and white varieties. With so many types of teas, there really is something for everyone.
While it's still chilly outside, check out these popular Japanese teas that are perfect for winter.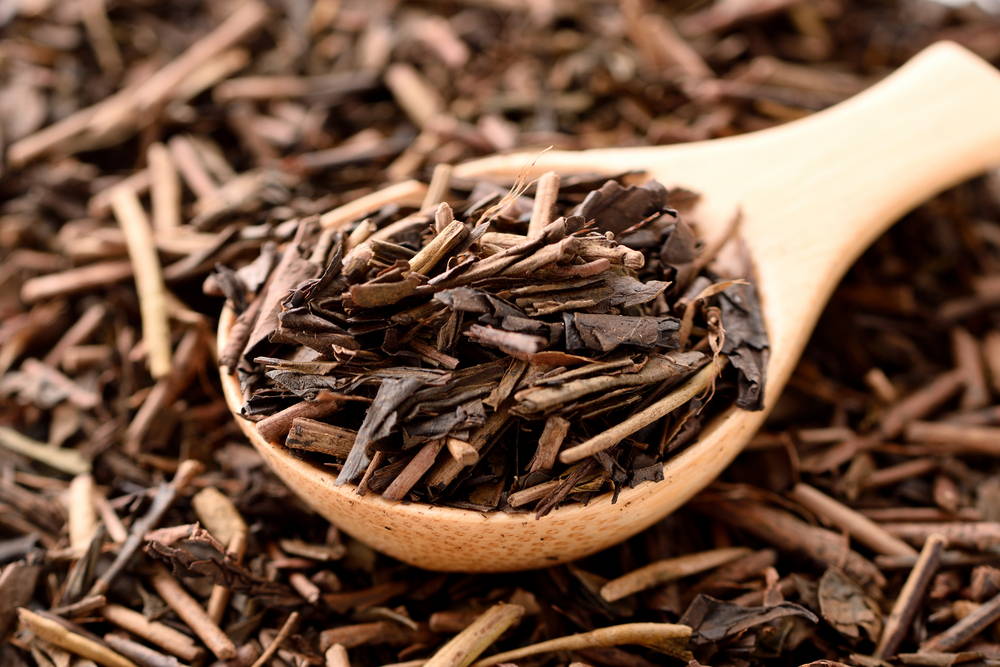 Hojicha tea leaves
1. Roasted Green Tea (Hōjicha)
Unlike a majority of Japanese teas, Hojicha is traditionally roasted in a porcelain pot instead of being steamed. This hotter temperature is what gives the tea its distinctive color. Rather than being green, Hojicha is a warm, reddish-brown color.
This tea can taste toasty, nutty, earthy, smoky, and even caramel-like. The teas's color and flavor can vary slightly depending on when it was harvested, differences in roasting temperatures, and whether it was made from leaves, stems, stalks and/or twigs.
Hōjicha can be made by steeping the leaves directly in the teapot or with an infuser. Thanks to the special roasting process, all bitterness is removed. For a unique modern take on this tea, try the Hoshino Hojicha Latte, which makes an instant cup of creamy tea.
Matcha with whisk, scoop, and tea grounds
2. Matcha
Matcha is one of the most popular flavor profiles in Japan. You can find everything from matcha-flavored ice cream to mochi to soba noodles. Matcha has a distinct flavor and iconic color while also boasting some serious health benefits.
Matcha is made from young, shade-grown tea leaves that are ground into a powder. This is then whisked with hot water until foamy. A bamboo whisk called a chaser is used traditionally.
Since you're actually consuming the leaves when drinking matcha (not just steaming/steeping them in water) you get all of the nutrients, like antioxidants, fiber, and vitamins. Quality matcha should not taste bitter and instead have a slight sweetness.
Matcha has been popping up all over the world in cafes, often as a matcha latte. You can make your own at home instantly with our Matcha Au Lait instant powder!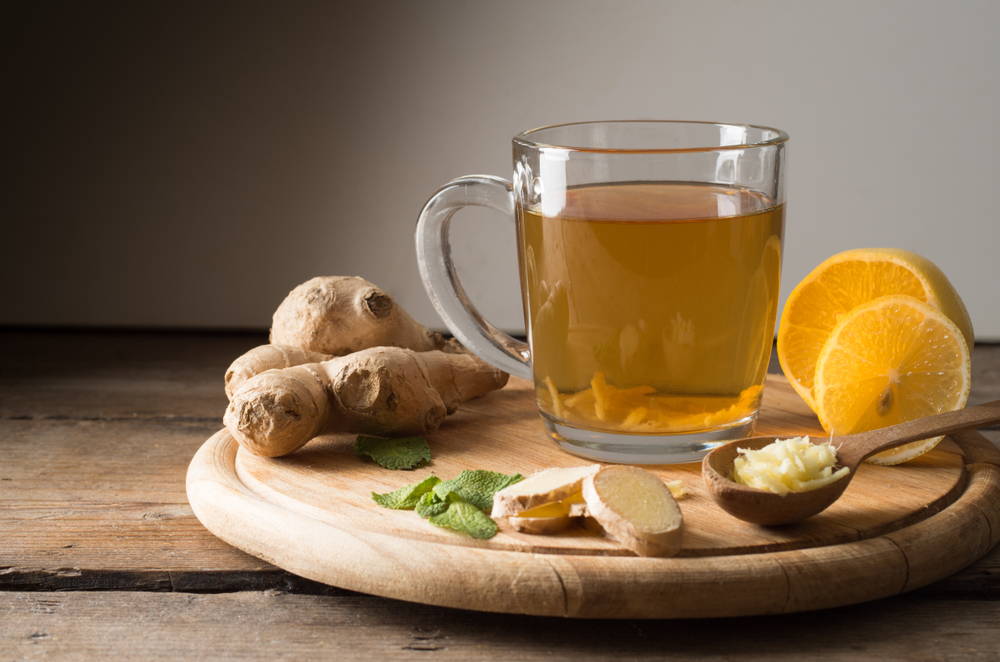 Shogayu tea with lemon
3. Ginger Tea (Shogayu)
If you're feeling under the weather, Shogayu—a kind of Japanese ginger tea—could be the winter beverage for you! This herbal tea is made with ginger root and was originally (and continues to be) used as a medicine. Its spicy kick is said to raise your body temperature which helps fight a cold, but it also helps with nausea.
Since ginger tea is spicy, some kind of sweetener is typically added. Honey is a popular option, but you could also use sugar, agave nectar, etc. If you're using ginger tea to combat a cold, we suggest honey since it's supposed to soothe the throat and act as a cough suppressant. A pop of citrus in the form of lemon, yuzu, or key limes are other compliments.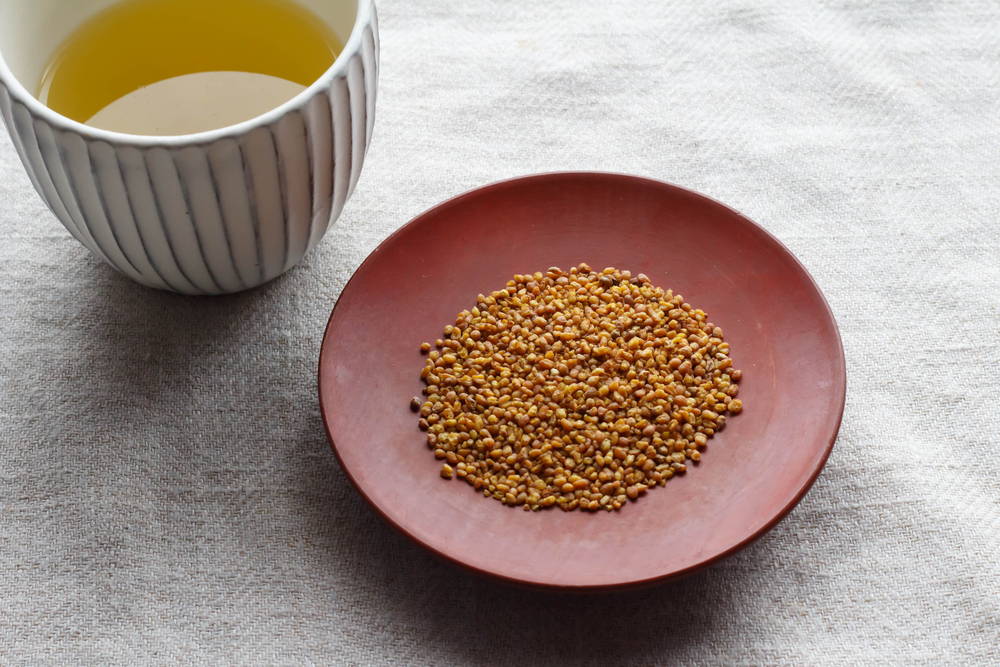 buckwheat grains for buckwheat tea
4. Sobacha
Sobacha is one of the most popular "teas" in Japan, but it's actually not tea at all, it's buckwheat! When added to hot water, buckwheat tea makes a delicious beverage.
Sobacha has a warm and earthy flavor. It pairs well with any foods since it's flavor is fairly mild and doesn't linger on the palate. It can be described as toasty or even nutty because the grains are roasted before use. Since it's caffeine-free, it's also a great tea to enjoy right before bed.
This popular tea is also known for aiding in digestion, and being rich in antioxidants. It's delicious both cold and hot, but the hot version in winter is one of our favorite cozy yet light teas.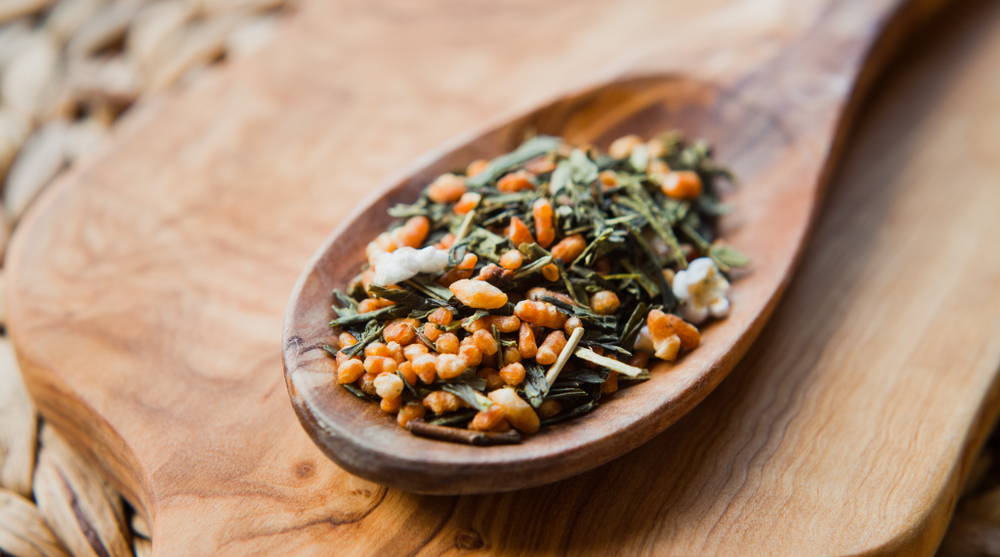 Genmaicha tea leaves with brown rice
5. Genmaicha Green Tea
If you like the taste of popcorn, you might want to try this tea! Genmaicha, also called "popcorn tea," is a type of green tea that's mixed with puffed brown rice kernels. It was created by Buddhist monks and helped people feel fuller during periods of fasting.
Genmaicha's warm, yellowish hue reflects the comforting nature of this tea. The sugar and starch from the rice give Genmaicha a slightly sweet and nutty taste. It's perfect for accompanying breakfast or to sip during the day.
If you're suffering from the winter blues, or simply need to take a breather, curl up with a cup of one of these teas and enjoy the flavors and aromas of Japan.

---